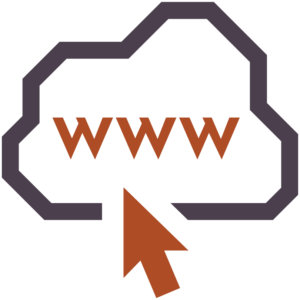 BRETT-TEK can help you create a professional presence on the Internet.  Though developing a website can be complicated, at its core are three basic components: registering a domain, hosting the website, and designing it.
Contact BRETT-TEK today, and determine a webhosting plan that's right for you.
Download BRETT-TEK Webhosting Plans (PDF)
NAME IT! – The Domain Name
If you don't already have one, picking a domain name is the first step; it's what Internet users will type in their web browser to access your website.  It can also be the ending of any email addresses you may want to create.
For example, BRETT-TEK's domain name is www.brett-tek.com, and some of its email addresses are robin@brett-tek.com and webmaster@brett-tek.com.
A unique domain name must be chosen and then registered (for instance, you can't pick www.microsoft.com; it's already taken!).  BRETT-TEK can register/renew your domain name for you; it's an inexpensive fee that provides ownership of the name so that on one else but you can use it.  In fact, depending upon the webhosting package you choose, your domain registration and annual renewals can be FREE!
HOST IT! – Web Hosting
A domain, once registered, needs somewhere to exist online; a machine Internet traffic is directed to that contains your website's files and email accounts.  These are known as web servers: machines connected to the Internet 24/7 for the sole purpose of managing website traffic.
BRETT-TEK's web server is designed with several webhosting plans to meet the various levels of features that you desire for your website.
 BRETT-TEK WEBHOSTING PLANS

Email Only



1 – MEGA
2 – GIGA
3 – TERA
STORAGE SPACE
Space is shared between web files and email accounts. Unlimited bandwidth.

2GB

5GB

15GB

30GB

Additional space (per 1GB)

$1

$1

$1

$1

EMAIL
Secure webmail access. Includes auto-forwarding, auto-replying, and spam filtration.

1

10

unlimited

unlimited

Additional email address (each)

$2.50

$2.50

–

–

WEBSITE
Site management. FTP access. Analytical data. Search Engine Optimization (SEO) Tools.  Site software & services including WordPress, Joomla, Drupal, and more.

●

●

●

Databases

1

5

unlimited

DOMAIN REGISTRATIONS
Annual renewal

$15

free

free

Additional parked domains (each)

$15

$15

$15

PRICING
 
Monthly
$5
$10
$15
$25
Quarterly (5% savings)

$14

$29

$43

$71

Annually (10% savings)

$54

$108

$162

$270
Download BRETT-TEK Webhosting Plans (PDF)
DESIGN IT! – Designing Your Site
With BRETT-TEK's web server hosting you domain, all that now remains is the actual content that web surfers will see when they go to your website.  Following are some questions that will help BRETT-TEK in the design of your site:
What other websites do you find appealing and would like yours to exemplify?  Why?
What content do you already have? Brochures? Text? Business logo or other images?
Do you already have an idea of colors and/or fonts you'd like to have?
Who is your typical customer/client/viewer demographic (age, background, etc.)?
What the site stay relatively the same or require frequent updates/changes?
The cost of designing a website varies greatly between projects, but a basic setup can start at $500.  Gathering information from questions like the ones above, BRETT-TEK can develop a proposal for your consideration.
Do I Need All Three?
You may not need BRETT-TEK for all three of these categories.  Perhaps you just want BRETT-TEK to host the site, but want someone else to design it; that's fine!  Please let us know what you want, and we can discuss future steps together.
Notes:
'Email Only' provided with '@iaccess.ca' account.  First account $5; additional email accounts each $2.50.
Taxes not included.  All prices in Canadian (CAD) currency.