For @iaccess.ca or @vcs-inet.net email clients, please click on the appropriate link to access your Webmail.
 Once you've entered your email address and password, you'll be presented with the following screen.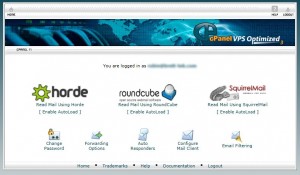 Horde, RoundCube, and SquirrelMail are three different interfaces in which you can view your email account.  Try each one and decide which you prefer.
Generally when accessing the Internet from a poor/slow connection, SquirrelMail has the simplest interface.  For the most bells and whistles, try Horde.  And for those Canadians who prefer something in between, you'll love RoundCube! 🙂
This main screen also gives you the ability to, among other things, change your password and setup auto-responders for when you're away from the office or on vacation!
Please contact BRETT-TEK if you have any questions or are uncertain about how to access or manage your Webmail account.